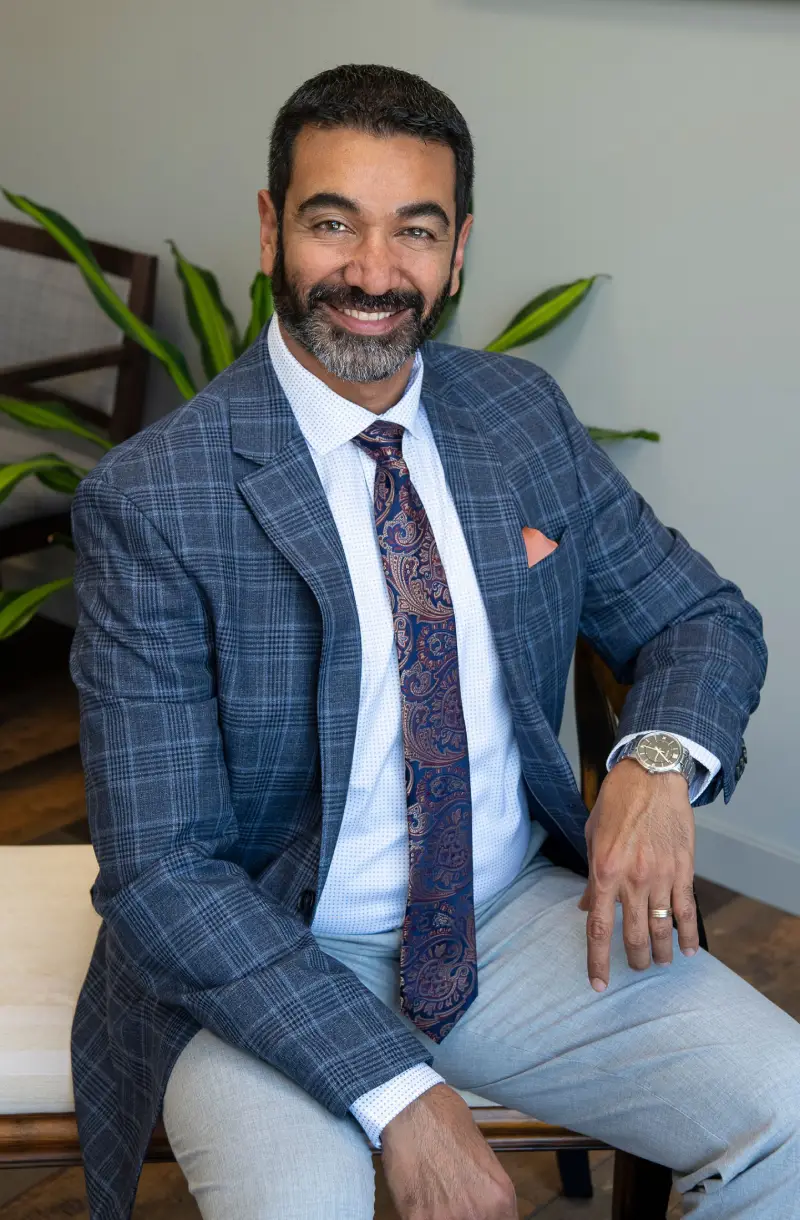 Holding Bachelor of Science degrees in Chemistry and Human Biology and a Doctorate in Chiropractic, Dr. Amir A. Rashidian is the founder of the Mid-Atlantic Chiropractic Center.  Established in 2006 and serving over 18,000 patient visits annually, the Mid-Atlantic Chiropractic Center focuses on high-tech diagnostics to detect and correct disturbances in the nervous system.  The doctors at the Mid-Atlantic Chiropractic Center, promoting drugless health solutions, work with patients to eliminate the causes of disease and not merely the suppression of symptoms. As a consultant, Dr. Amir has worked with 18 chiropractic practices, 16 of which were startup businesses that all reached profitability within the first 3 months of business launch.  Dr. Rashidian attributes his success in opening practices to an intensive systematized marketing plan implemented 3 months prior to business launch. He has personally opened two very successful chiropractic practices.
A very active speaker at corporate events, conventions, and churches, he is also frequently interviewed by the local TV, radio, and newspaper. Additionally, Dr. Amir serves on the Board of Directors of Habitat for Humanity and is a major financial supporter of their local building projects.  Furthermore, Dr. Amir also serves as the chairman of the Elder Leadership Team at Grace Community Church.  He has won multiple honors and awards including Business Leader of the Year and Philanthropist of the Year.
He is happily married to his wife of 14 years and together they have three sons.
Dr. Amir A. Rashidian was born in Iran in 1974.  He was 5-years old when rioting began, and the government was overthrown.  Iran became the Islamic Republic of Iran and the world as he knew it changed.  He still remembers the gruesome violence of that time and although several decades have passed, he can recall the scenes like they occurred yesterday. 
He was 6-years old when Saddam Hussein's Iraq invaded Iran and thus began the air-raids and bombings.  Dr. Amir lived in a quiet and peaceful area of northern Iran near the Caspian Sea. Prior to the revolution this area was a trendy and luxurious vacation area with lots of recreational facilities and picturesque beaches. However, a couple years after the war began, the beautiful scenic park across from his house was converted into a POW camp to contain the many Iraqi prisoners.  Every couple of months an Iraqi soldier would escape and attempt to hide in Dr. Amir's neighborhood.  Shooting would ensue in the streets and Amir's family would hide in their home.
Dr. Amir's father wanted to bring the family to America.  Every summer Dr. Amir's father would take their family to a different European country with the hopes of obtaining a visa to the United States.  Each time they met with rejection and had to return home. 
Finally, at age 11, Dr. Amir's family was given permission to enter the United States of America. In August of 1985, Dr. Amir and his mother landed in Los Angeles with nothing but two suitcases.  They were homeless for a few months until they moved into a small 2-bedroom apartment which they shared with another woman and her two young children.  His experiences during this time led to his passion for helping the homeless and those in need of proper housing.  This is also why he serves as a member of the board of directors of Habitat for Humanity in his hometown.
Dr. Amir's father was a highly respected and successful businessman in Iran.  He owned a large construction company and had built hospitals, government buildings, and apartment buildings in Iran. However, after the revolution, their money was practically worthless in America. Dr. Amir's mother worked as a nanny during the week and Dr. Amir and his mother cleaned houses on weekends to earn extra money.  One day, a wealthy man approached Dr. Amir's father who was still in Iran and offered him the opportunity of a lifetime.  The wealthy man offered to purchase a house on the east coast and sell it to him at no interest and low monthly payments.  Thus, Dr. Amir with his mother and father moved to Maryland in 1987.
Before leaving Iran, Dr. Amir's dad wanted to teach him about poverty and life in the underprivileged regions of Iran, the villages in the foothills of the Elburz mountain range.  In one of those villages, Dr. Amir was witness to a young woman who had gone into labor.  The midwife told her and her husband that the baby was not alive, and the young woman would likely not survive.  That woman died in her husband's arms because there were no doctors in that village. Amir decided in that moment to commit his life to becoming a doctor, to saving lives, and preventing unnecessary death. 
In America, driven by his dream to become a doctor, Dr. Amir was a good student and a very hard worker.  Unfortunately, Dr.  Amir had a type of dyslexia that affected his ability to read.  His eyes would jumble the words on the page and he had to rearrange them in his mind to try and make sense of the text.  At the time, he didn't know he had dyslexia and believed he was slow and dumb.  It didn't mean he couldn't do well in school; it just meant that he would have to work harder and longer than anyone else.  That's how he managed to get the grades, finish near to top of his high school class and get accepted into the George Washington University's premedical program.
During his sophomore year at GWU, Dr. Amir's father began to suffer from nerve damage and spinal cord compression in his neck resulting from degenerative spinal arthritis.  This severely painful condition had caused Dr. Amir's dad to lose function and control of his arms and hands.  They consulted with three neurosurgeons who all agreed that Dr. Amir's dad needed an invasive high-risk neck surgery.  Fortuitously, they came across a chiropractor who claimed he could help Dr. Amir's dad without drugs or surgery.  After 6 months of chiropractic holistic care, Dr. Amir's father was free of all pain and full function had been restored to his arms and hands.  This incident is where Dr. Amir got his passion for holistic healthcare and disease prevention.
Dr. Amir completed two internships at the National Institutes of Health during his Junior and Senior years at GW.  Under the supervision of some of the most brilliant minds in medicine, he was a part of multiple research studies in the Clinical Chemistry department of the Pathology Lab.  His findings were published in two separate articles in the Journal of Clinical Chemistry.
Based on his excellent scholastic achievements and extracurricular activities, Dr. Amir felt that he was a shoo-in to be accepted into medical school.  However, because of his dyslexia, he was unable to score well in the Reading Comprehension section of the MCAT, a standardized test intended to assess a student's suitability for medical school.  He was half-way through the reading section of the test when his time ran out.  Although he scored very well in the physical and biological sciences sections, it was not enough to counteract the low score he received in English.  As a result, the medical schools he initially applied to did not show any interest in him.
During his senior year at GW, realizing that he had failed to get into medical school, Dr. Amir sank into a deep and dark depression. After a series of miraculous events that seemed to have been orchestrated by God Himself, Dr. Amir was able to pull himself out of his depression and get his life back on track.  He felt that God was calling him to become a follower of Jesus Christ.  So, at age 21, Dr. Amir dedicated himself to Christ and became a Christian.  Today, he is the Chairman of the Elder Leadership Team at Grace Community Church in his hometown of Frederick, Maryland.
Dr. Amir finished undergraduate school and earned his Bachelor of Science degree in Chemistry.  He spent a year working for the Emergency Preparedness sector of the U.S. Department of Health and Human Services.  There he was awarded a Certificate of Appreciation for working to help disaster victims.
In May of 1997, he resumed his studies at the National University of Health Sciences in Lombard Illinois, just outside of Chicago. There he obtained a second Bachelor of Science degree in Human Biology and a Doctorate in Chiropractic.  Once again, he graduated near the top of his class.  Dr. Amir didn't receive his diagnosis of dyslexia until he was 40 years old.  He always believed he was slow and less intelligent than everyone else and as a result he had to work harder than everyone else.  Today, Dr. Amir believes that his dyslexia was a gift from God and it taught him how to be resilient and persistent when pursuing his dreams.
In 2003, after having worked at a large medical practice, he opened his first office in Woodbine, Maryland.  His practice quickly grew and became successful.  During this time, he met his sweetheart Brandi who was living in Baltimore at the time.  It was love at first sight.  Over the next 10 months the two got engaged, and soon after they were married.
Since Dr. Amir's practice was doing so well, a consulting firm took notice of his success and hired him to join their firm as one of their consultants. Dr. Amir was able to manage his practice and work as a consultant at the same time.  Over the next year, he worked with dozens of doctors and helped to open 16 practices across the country.  He had become an expert in market analysis and practice promotion. Inspired by the great success of his clients, and in spite of the fact that he enjoyed consulting, he resigned from the consulting firm in order to expand his practice. Along with his wife Brandi, they opened their second office in Frederick, Maryland in late 2006. 
In 2008, following a dispute with his business partner, Dr. Amir decided to dissolve the partnership and sell the Woodbine practice in order to put all his attention on the Frederick office.  Today, the Mid-Atlantic Chiropractic Center in Frederick has a staff of 8 full-time employees including three chiropractors and they serve over 18,000 office visits per year. Their aim is to provide drugless health solutions in order to help build a healthier next generation by improving the lives of families today. The practice focuses on high-tech diagnostics to detect and correct disturbances in the nervous system.  The doctors at Mid-Atlantic Chiropractic work with patients to detect and remove the causes of disease and not merely suppress the symptoms.  They believe that early detection is not synonymous with prevention and therefore they have created wellness programs that not only will detect problems early but also prevent them from occurring in the first place.
Dr. Amir and Brandi are no strangers to stress. They battled infertility for the first five years of their marriage. They went through a very difficult time as they tried several very costly treatment methods until their first son was born.  Today they have three healthy handsome boys.  Then in 2008, they found themselves in over a million dollars of debt as property values declined and the real estate market crashed. Through hard work, sacrifice, and a little help from family members, they were able to bounce back and within 10 years they were able to purchase their dream home.
Dr. Amir has a passion for helping children.  Prior to the birth of his first son, Dr. Amir completed one year of post-doctorate pediatrics training through the ICA Council on Chiropractic Pediatrics. When his first son was born, the baby was not breathing.  The doctors were unable to get the infant to breathe.  As a last resort, Dr. Amir stepped in and gave his son a pediatric chiropractic adjustment.  Miraculously and instantly, his son started breathing and they were able to avoid tragedy.
Dr. Amir's mission is to help create a healthier next generation by improving the lives of children and families today.  His vision is that if you work with him, you will never be one of those people who say you're too old to do something you want; or that something you now want is too stressful, or too difficult.  In fact, he wants his clients to find life fulfilling and enjoyable packed full of energy, strength, and vitality with the ability to do all that you want.  What he wants for you is longevity and a life of over 100 years of full physical ability and the mental clarity to build memories with your children, grandchildren, and great-grandchildren.  Health is your birthright.  Claim it!
Dr. Michael Lacey is a doctor of chiropractic, a husband, a father, a classically trained pianist, and a general lover of life.
Before earning his doctorate in chiropractic from Life Chiropractic College West, Dr. Michael received his BA in piano performance from the prestigious Howard University. His career trajectory shifted from music to chiropractic when he witnessed his mother's 15 year bout with a chronic back condition begin to improve shortly after she started chiropractic care. From a very young age, he watched helplessly as his mother suffered with daily back pain. As a child, he accompanied her to multiple appointments to different health practitioners. These appointments lead to little to no relief until a family friend recommended that she go to a chiropractor. The impact of witnessing an almost 180 degree improvement in her condition in a relatively short span of time under chiropractic care inspired him enough to place his life-long passion for music on the back burner and pursue a career in chiropractic. He has never looked back since.
With nearly 14 years of combined practice between Chicago, Manhattan and now Frederick, he's had the honor of meeting and working alongside inspiring and talented natural health practitioners from multiple disciplines. Dr. Michael served everyone from pregnant mothers and their newborns to professional athletes and Broadway actors. He has received extensive training in structural biomechanics and specializes in postural correction and ergonomics. Dr. Michael is extremely passionate about assisting others in discovering their full health potential. As a San Francisco Bay Area native, Dr. Michael is proud to serve the Frederick community.
During his free time you can find Dr. Michael spending time with his family, reading, and playing the piano. As a rudimentary card magician, you can also find him attempting card tricks on friends and family. He is an avid baseball and football fan and holds a brown belt in Hei Long Shou Shu Kung Fu.
Dr. Chris was born and raised in Pennsylvania. Growing up, he enjoyed many outdoor activities and played multiple sports. While playing high school football, he sustained an injury, which required treatment from the team's Athletic Trainer. This injury sparked Dr. Chris' interest in the evaluation, treatment, and rehabilitation of athletes. He attended California University of Pennsylvania to obtain a Bachelor's, and then West Virginia Wesleyan College to obtain his Master's degree, both in Athletic Training. 
As a certified Athletic Trainer, he worked closely with various collegiate and high school athletic teams providing injury prevention, wellness promotion, emergency care, examination, rehabilitation, and treatment for injuries.  In an effort to expand his abilities to serve his patients, in 2018 Dr. Chris began to attend Palmer College of Chiropractic in Port Orange, Florida. He obtained his Doctorate of Chiropractic in December 2021 and joined our team right away! Dr. Chris enjoys watching football, snowboarding, golfing, and spending time with his wife, son, and 2 dogs. He is excited to join the Mid Atlantic Chiropractic team and become an integral part of Frederick Community. 
Mid Atlantic Chiropractic Center welcomes new patients, give us a call today!